EV Chargers for the Home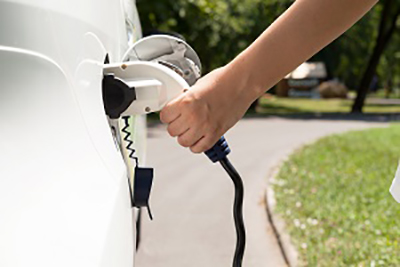 Electric vehicles have been rising in popularity very rapidly over the last few years, and the need for electric car charging stations is growing just as quickly. At EV Charging Installers of America, our experts can work with you to install EV chargers for your home. Isn't it time you had your own personal electric vehicle charging station at home?
Our professionals will be able to provide service for every aspect of the EV charging station installation job:
We'll assess your home and its electrical system as well as your vehicle to determine the precise needs that you have for an electric car charging station.
We'll work with you to decide on the perfect model of charging station for your home and vehicle.
Then we'll provide you with a high quality, professional installation so that your charging station is completely reliable, effective, and safe.
Our EV charging station installation experts can guarantee high quality workmanship, professional customer service, and your complete satisfaction. Our goal as a company is to help build the infrastructure that's currently needed for electric vehicles across the U.S., and we look forward to working with you to accomplish that.
Types of Charging Stations
There are three basic types of residential electric vehicle charging stations:
Level 1: Also known as a "120-volt" charger, this is the charging cord that comes with every electric car and has a conventional three-prong plug that can be used in any properly grounded wall socket. This is the slowest type of charger, and it is typically only feasible for use with plug-in hybrids with smaller battery packs.
Level 2: Also known as the "240-volt" charger, these EV chargers operate at least twice as fast as Level 1 chargers. Typically, battery-electric cars require Level 2 home charging stations to provide overnight recharges. Our professionals can provide you with all of the wiring changes that this installation may require, and we'll be able to complete the job safely and professionally.
DC Fast Charging: These chargers are often incorrectly referred to as "Level 3". These use direct currents (DC) rather than alternating current (AC), and they're very high powered. These are only used for public sites.
If you're having an electric car charging station installed at your home, you'll probably need a Level 2 charger. Our experts will help you select the perfect brand and model of Level 2 charger based on your vehicle and your home.
Why Level 2?
Level 2 chargers allow you to charge your electric vehicle over the course of a few hours, so you can always charge quickly and conveniently.
Charge 3-5 times as quickly than you can with a Level 1 charger.
Level 2 EV chargers are reliable, safe, and energy efficient.
Charge during off-peak times to save money on energy consumption.
We Install EV Chargers from These Manufacturers:
Benefits of EV Charging Stations for Your Home:
Charge your electric vehicle quickly and conveniently with your reliable, safe, and easy-to-use charging station.
Minimize charge time and get back to your life.
Let our experts walk you through your options for Level 2 electric vehicle chargers, then make the best choice for your home.
If you're looking for EV chargers for your home, call EV Charging Installers of America at 855-373-9566 or complete our online request form.
Recent Articles
How To Get a Safe, Fast, and Thorough Installation for EV Charging Stations in New Jersey - Maybe you're purchasing a brand new electric car, or maybe you've decided it's finally time to install that Level 2 charger for an EV you've had for some time. No matter what the situation is, it's important that when you're having a new electric vehicle charging station installed at your home … Read More
New Jersey EV Chargers: What is a Level 2 Electrical Vehicle Charger? - Electric cars are growing in popularity more rapidly than any other type of car in the industry. At some point, vehicles powered by electricity will be the standard of the automotive industry, and it's important that the infrastructure in the U.S. changes as the rise in electric vehicles requires it to. Electric cars save energy, promote health, and are environmentally friendly, so they can offer a number of great benefits … Read More